Name:
Valkion
Location:
Somewhere in the 14th dimension.
Position (who do you serve under/as what):
Independent
Appearance (feel free to include a pic):
Basically a normal human, with fairly short black hair and blue-grey eyes. Valkyrion looks slightly younger than middle-aged, with a fairly light complexion. He wears a white futuristic armor suit (pretty much the same as the Crysis nanosuit, except white). Most of the time, however, he is in his mech, armed with an energy blade in the right arm and railgun in the left. It moves in a fast and agile fashion, similar to its counter-part in Armored Core (see image below).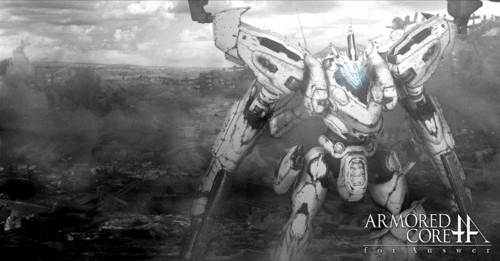 Personality:
Honor is the base of his personality, and he will fight fervently for his allies and risk his own life to save another. Keeping a calm, cool head allows him to stay on top of things in battle, and his knowledge far surpasses his years. Sometimes philosophical in nature, he often silently questions the world around him. Valkion is very quiet at times, speaking to others in a calming, concise voice while thinking through everything.
Goals:
Searching for anything to help him understand the universe and to help others, gaining experience and knowledge he can later apply to his philosophies and to go even further in his quest for meaning.
Strengths (5 at MOST):
He is a strong fighter (both in his mech and on foot), extremely knowledgeable and philosophical for his age, and his ability to be calm and care for others.
Weaknesses (3 at LEAST):
Sometimes Valkion is too driven in his quest to help others and eradicate evil to care for his own safety. He doesn't know what to do when others are helping him instead, and he sometimes helps the wrong people in his quest to make the world a better place.
Other:
Not much...
Plot Ideas:
Mainly a character to keep me from dying from boredom, but maybe later he will get involved in the plot and possibly help the main group.

~*~
"Our deepest fear is not that we are inadequate. Our deepest fear is that we are powerful beyond measure. It is our light, not our darkness that most frightens us." - Marianne Williamson